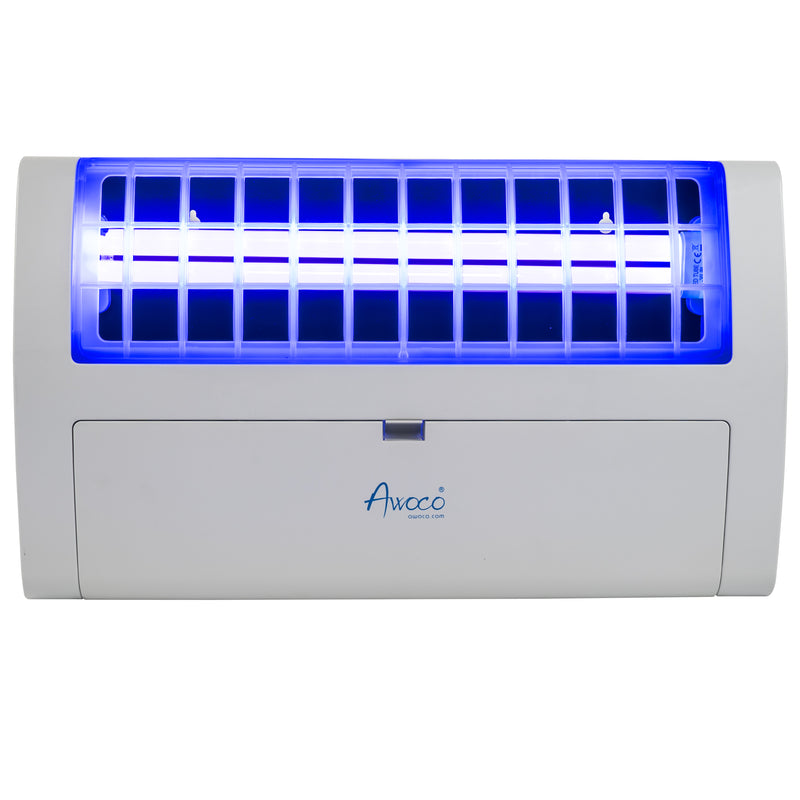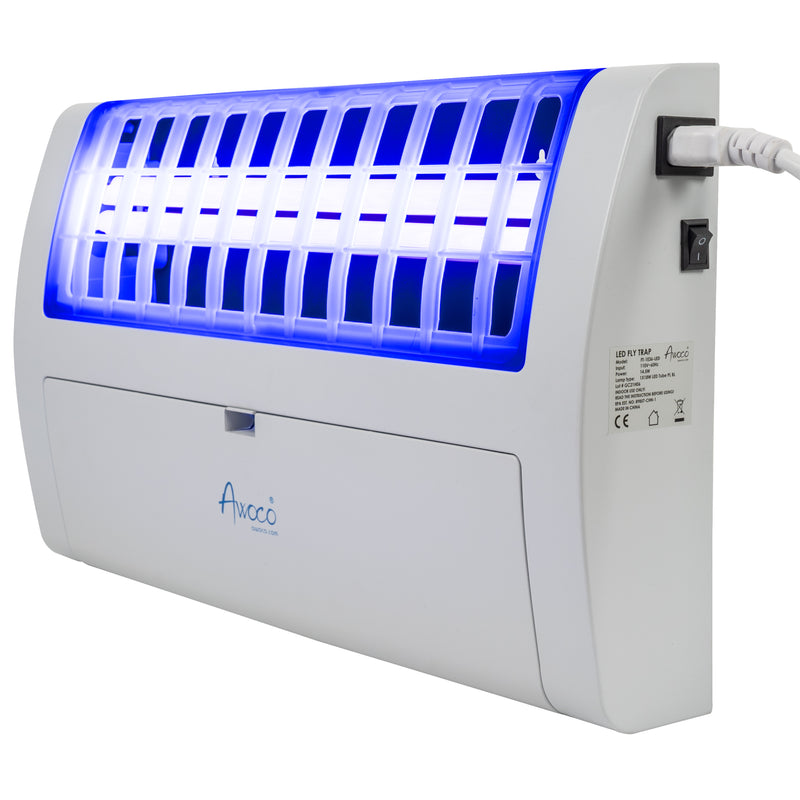 Quiet and Effective: This Awoco sticky fly trap lamp is specifically designed to keep any living space free of pests, such as flies, mosquitoes, moths, etc. Voltage: 110V AC, 60hz. Power: 13 Watts. 58" long power cord.
Safe and Eco-Friendly Design: This lamp utilizes LED light to attract pests to the lamp due to the irresistible light, which captures the pests onto a sticky glue board. The glue boards are coated with a special non-toxic attractant that is safe to use, which should be replaced every 2-3 months for most effective results.
Versatile: Perfect for the home, kitchen, restaurants, hotel, factory, supermarket, hospital, food industry, office and any indoor spaces that attract pests. Please install in an enclosed area, such as a balcony, porch, or any indoor space. Avoid installing the lamp outdoors where it's exposed to the weather elements.
Upgraded Version with LED UV Light: Newly upgraded LED UV lights are more energy-efficient than fluorescent light bulbs while providing brighter lighting. Save money and maintenance costs with these new LED UV lights that are more durable and do not flicker near the end of their lifespan, which prevents eye strain and blurred vision in comparison to fluorescent light bulbs.
1-Year US Limited Warranty on Fly Trap: The LED bulb is consumable depending on the power condition with a 3-month warranty. If the lightbulb does not last within 3 months, please feel free to contact us for a free LED bulb replacement, which is limited to the US only. Awoco has LED bulbs and glue boards available. Lamp Overall Dimensions: 18-3/4"W x 3-1/8"D x 11-1/8"H. Glue Board Dimensions: 15-1/4" x 10-5/8".
FULFILLMENT / DELIVERY
Dispatch: Within 48 Hours
Free shipping across all products
Domestic delivery time - 4-10 business days (Mainland USA ONLY)
Easy 30 days returns and exchanges
Please look at our "Shipping Policy" section for further information.
RETURNS
• You can return new, unopened items within 30 days under our hassle-free return policy - no questions asked.
• For refurbished products please inquire at sales@awoco.com.
• Please look at our "Refund Policy" section for further information.
Lamp
Glue Board
Voltage
Wattage
Coverage
Width
Depth
Height
Length
Width
18-3/4"
3-1/8"
11-1/8"
15-1/4"
10-5/8"
110V AC
60Hz
36W
1650
sq. ft.
Model No.
Power Cord
Glue Board #
FT-

1E36

58" L
1
FT-

1E36

-COMBO
58" L
6
FT-

1E36

XL
78" L
1

FT-1E36

XL

-COMBO

78" L
6
Awoco FT-1E36-LED 13 W LED Wall Mount Sticky Fly Trap Lamp