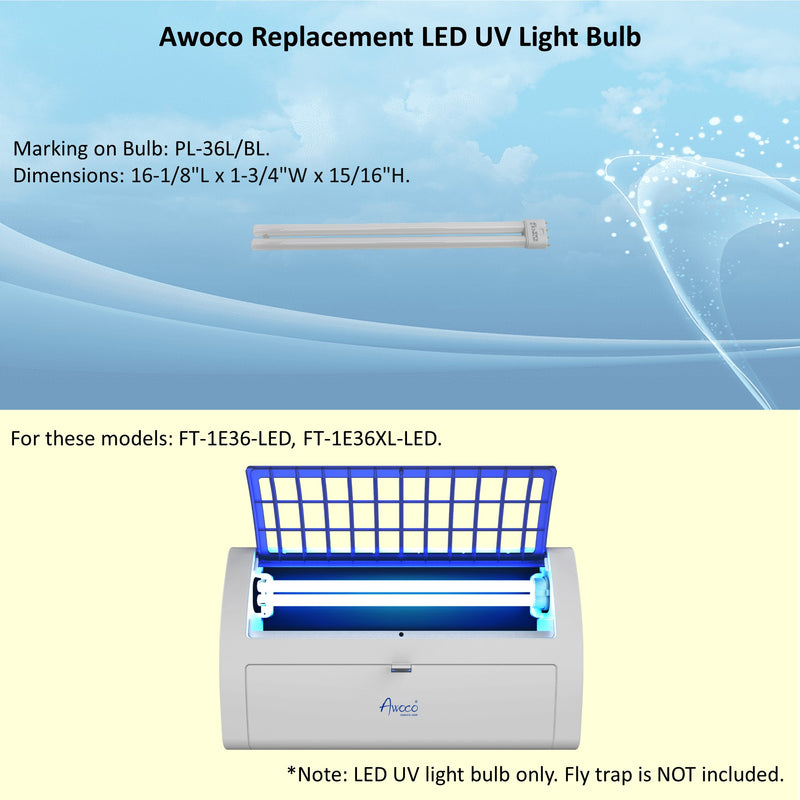 13 W H Shaped UV Bulb for Awoco Wall Mount Sticky Fly Trap Lamp FT-1E36.

Replace the UV Bulb every 1/2 to 1 year for the most effective results.

LED UV Bulb Dimensions: 16-1/8"L x 1-3/4"W x 15/16"H.

Marking on Bulb: LED TUBE PL-36L/BL.

3-Month USA Warranty - The light bulb is consumable. If it does not last within 3 months, please feel free to contact us for a free replacement. 
FULFILLMENT / DELIVERY
Dispatch: Within 48 Hours
Free shipping across all products
Domestic delivery time - 4-10 business days (Mainland USA ONLY)
Easy 30 days returns and exchanges
Please look at our "Shipping Policy" section for further information.
RETURNS
• You can return new, unopened items within 30 days under our hassle-free return policy - no questions asked.
• For refurbished products please inquire at sales@awoco.com.
• Please look at our "Refund Policy" section for further information.
LED TUBE PL-36L 13 W LED UV Light Bulb for Wall Mount Sticky Fly Trap Lamp FT-1E36-LED