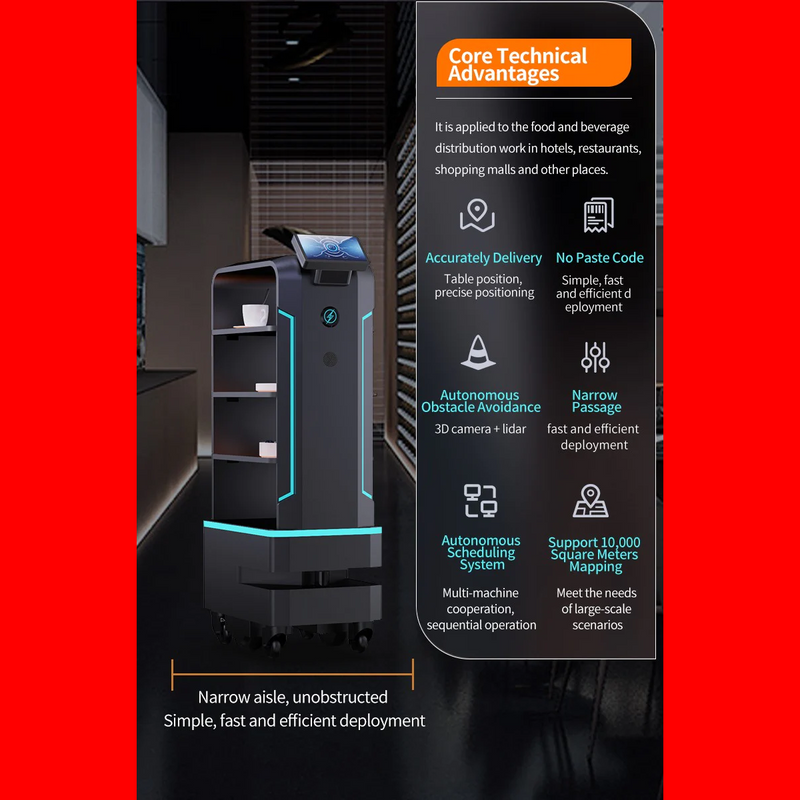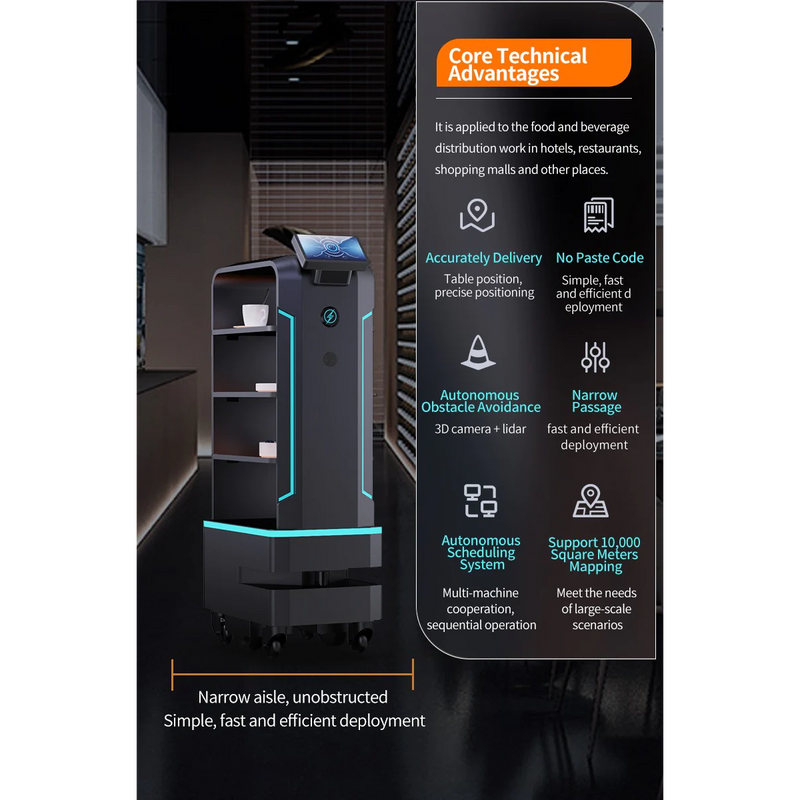 FLASH Food Delivery Robot

The FLASH food delivery robot is equipped with Awoco's leading autonomous scheduling system, multi-machine collaboration, stable operation, high-precision navigation and positioning, no code sticking, 3D intelligent obstacle avoidance, free passage in narrow lanes, automatic return charging, and optional autonomous elevator call / Door control and other functions to realize the distribution of goods on different floors.
Features:

Robot with advance AI technology that can bring food and drinks to tables.
Ultra-thin body can pass through pathway as narrow as 2 feet.
High-precision navigation and positioning system that can realize precise distribution services.
Equips with camera and LiDAR (Light Detection and Ranging) to detect obstacles, intelligently identify the surrounding environment, automatically avoid colliding with pedestrians and objects.
Multiple delivery modes (meal delivery mode, cruise mode, dishes recycle mode, and birthday celebration mode) which can satisfy different event scenarios.
Smart recharge design: when the robot power is below the minimum charge, it will automatically return to the charging station for charging without manual operation.
Support up to 20,000 square feet store area.
Product Specifications:
Operating System: Android 5.1 operating system and above. 

Net Weight: 88 lbs.

Tray Size: 13.1" x 18.3" (4 layers in total).

Overall Size: 21.5" x 14.1" x 47.8".

Plate Cleaning: Detachable.

Battery Parameters: LiFePO4 battery 25.6V/25Ah.

Network Method: WIFI

Light Color: Fluorescent green

Screen: 7" resolution 1024 x 600.

Tray Weight Limit: 33 lbs per layer.

Voice Prompts: Customizable voice.

Task Configuration: Customize task settings.

Battery Life: Around 15 hours battery life.

Movement Parameters: Climbing 5°. Rotation Radius: 0. Swing Radius: 10".
FULFILLMENT / DELIVERY
Dispatch: Within 48 Hours
Free shipping across all products
Domestic delivery time - 4-10 business days (Mainland USA ONLY)
Easy 30 days returns and exchanges
Please look at our "Shipping Policy" section for further information.
RETURNS
• You can return new, unopened items within 30 days under our hassle-free return policy - no questions asked.
• For refurbished products please inquire at sales@awoco.com.
• Please look at our "Refund Policy" section for further information.
REEMAN FLASH AI Technology Intelligent Restaurant Food Delivery Serving Robot