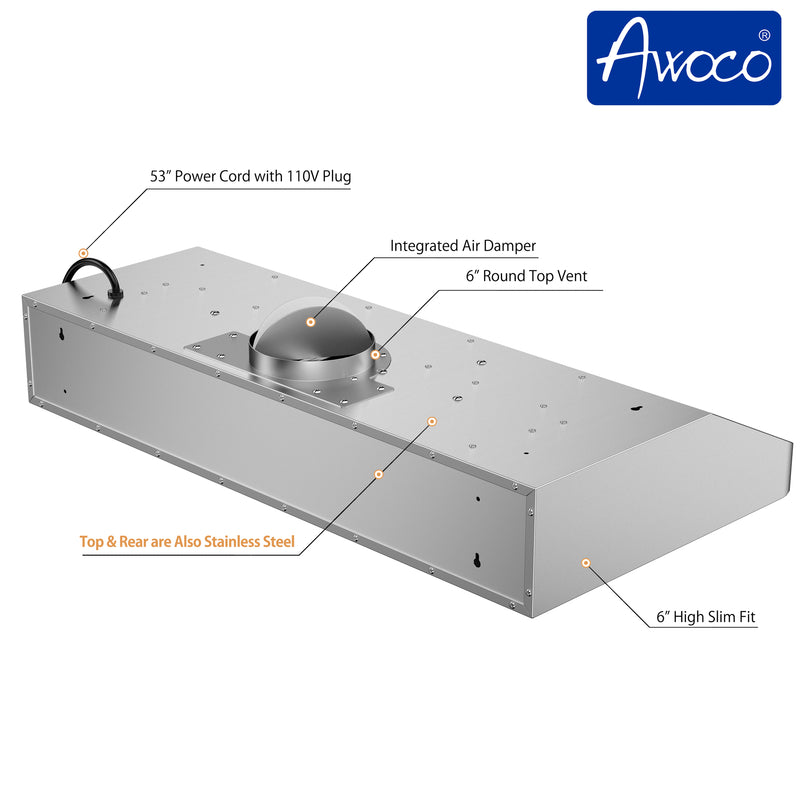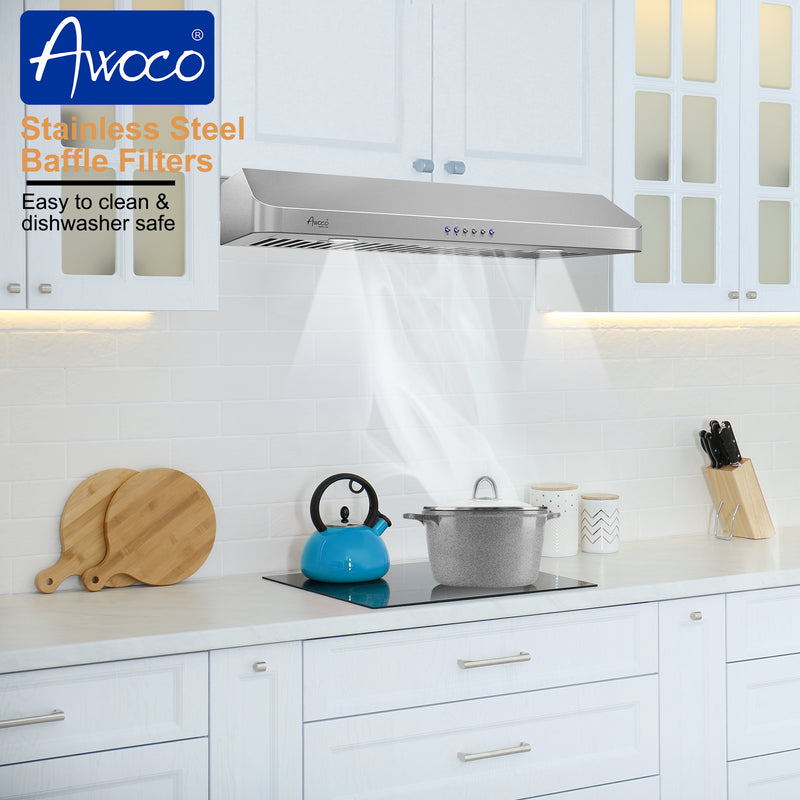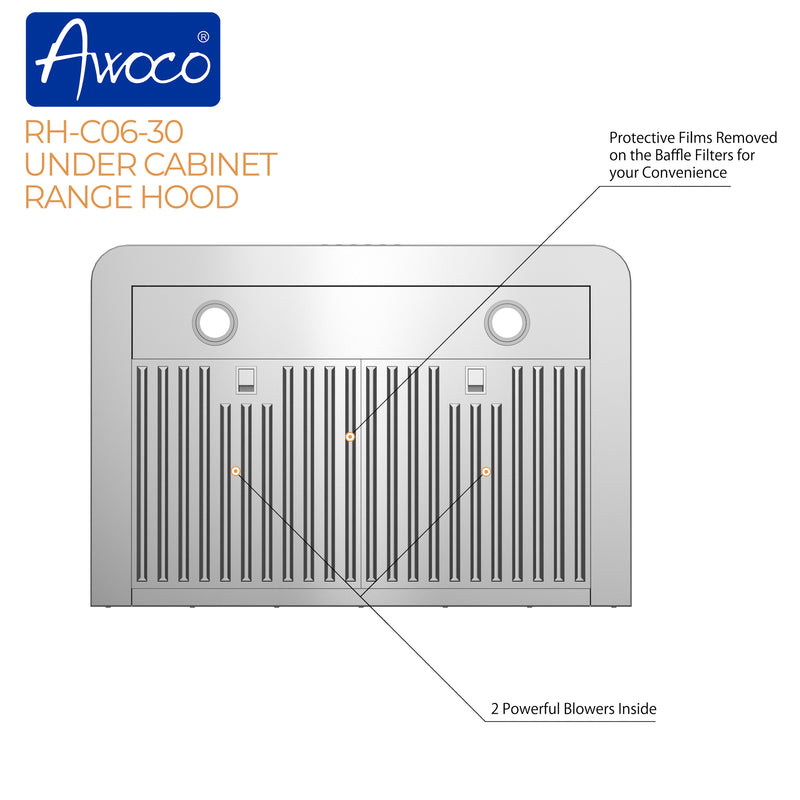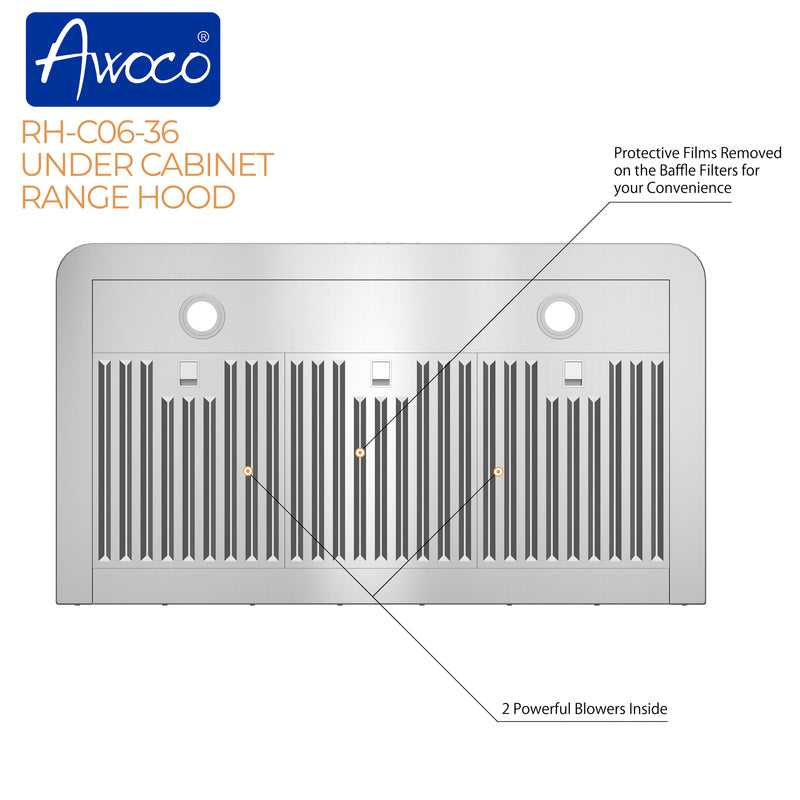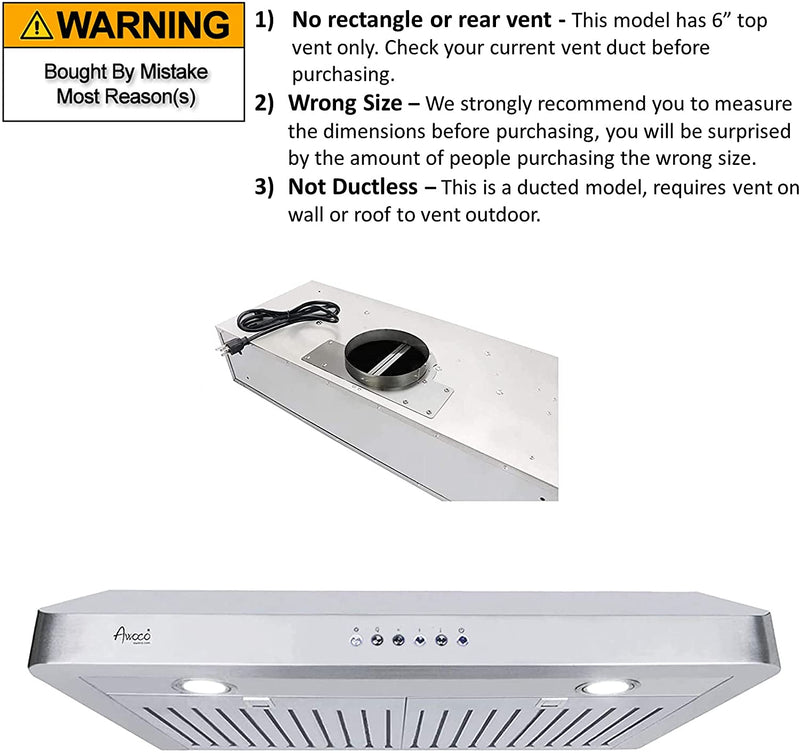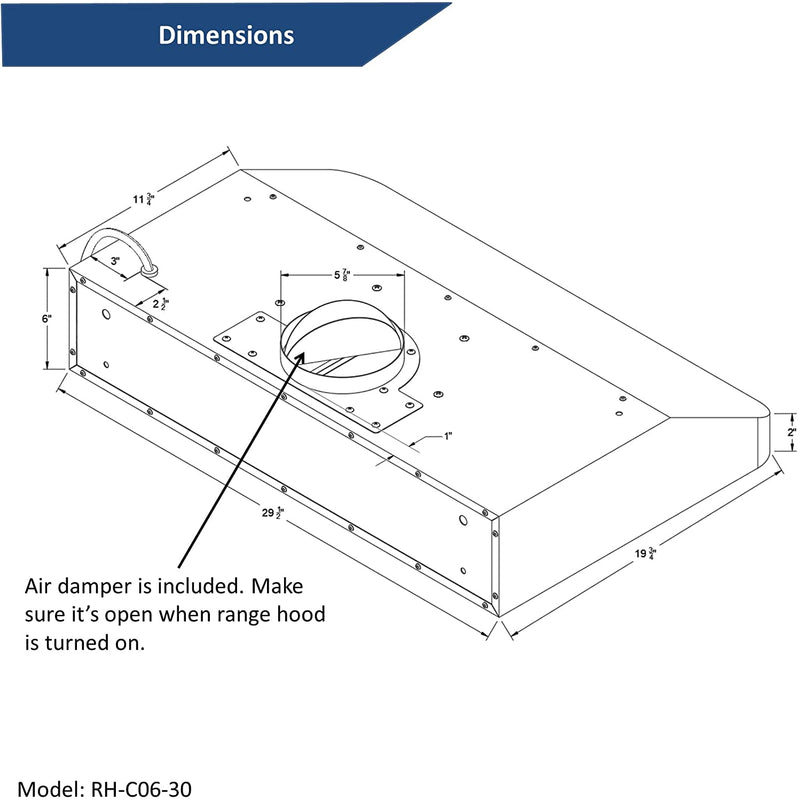 SUPER SLIM 6" HIGH, 1mm THICK: under cabinet mounted, high quality stainless steel with brush finishing. Please note: that a range hood without protective films is not a new product. The protective films on the body were removed to complete the brush finished polish on the surface. Perfectly fits under the 12" deep standard cabinet; provide slick style and powerful performance.
DUCTED VENT OUTDOOR, 6" ROUND TOP VENT: 6" round top exhaust vent (NO rear vent). Air damper is included. CAUTION: please check your existing venting duct before purchasing, there are rectangle or round ducts at different sizes.
4 SPEEDS POWERFUL OPERATION WITH DIMMABLE BRIGHTNESS LED LIGHTS: 4 speeds (Quiet, I, II, III up to 900 CFM), blue-lighted soft touch electronic buttons with 2 of 1.5W energy saving cold dimmable brightness LED lights. 2 motors rotate oppositely. Power rating: 120V/60Hz, 110W Min /150W Max. 53" Power cord with plug is included. Noise level at low: 49 dB, 4.5 sones. Noise level at high: 62 dB, 11.0 sones.
DISHWASHER SAFE BAFFLE FILTERS, 3 MINUTE AUTO SHUT OFF: Dishwasher safe; commercial style stainless steel baffle air filters. The oil is contained in the baffle filters, no oil holders needed. 3 minute timer delayed with auto shut off feature to vent the leftover smoke after cooking.
3 YEARS LIMITED WARRANTY: ETL Certified. Free parts, repair or exchange within 3 years. Awoco high quality product reputation and supreme customer service is a guarantee. 
30" Hood Dimensions:

29-1/2"W x 19-3/4"D x 6"H. Hood weight: 32 lbs.

36" Hood Dimensions: 

35-3/4"W x 19-3/4"D x 6"H. 

Hood weight: 35 lbs.

42" Hood Dimensions: 4

1-3/4"W x 19-3/4"D x 6"H. 

Hood weight: 39 lbs.
Outstanding Features:

1mm Thick High Quality Brushed Finish Stainless Steel.
The 1mm thickness has stronger structure, which makes it outstanding from other range hoods, no shaking noise, more durable.
Enhanced folded edges will not cut your hands, but also provide stable structure.
All surface is brushed finish which gives a modern look and easy to clean.
High-Quality Stainless-Steel Baffle Filters
Stainless steel baffle filters adapted the concept from commercial baffle air filters, the grease is contained inside the filter trays, no oil cup needed.
They function by forcing grease-filled air to quickly change direction twice as "N" character while it rises through the filter. Because the grease droplets cannot change direction as rapidly as the air carrying them, they end up condensing to the filter trays.
Some of their benefits are:
Much more durable.

Improved airflow.

Dishwasher safe.

Low maintenance.

Less noise.
4-speed blue-lighted soft touch electronic buttons.
Noiseless blue-lighted LED soft touch buttons. No mechanical button interface.
Other Features & Specifications:
Mounting Type: Under Cabinet or Wall Mount

Venting Type: 6" round TOP vent exhaust. (Hardware stores have various adaptors, such as 6" to 7", 6" round to 3-1/4"x10" rectangle, etc.)

2 Motors rotate oppositely.

2 3W energy efficient cold bright LED Lights are bright enough to cover the whole cooktop.

Noise level at low: 49 dB, 4.5 sones. Noise level at high: 62 dB, 11.0 sones.
FULFILLMENT / DELIVERY
Dispatch: Within 48 Hours
Free shipping across all products
Domestic delivery time - 4-10 business days (Mainland USA ONLY)
Easy 30 days returns and exchanges
Please look at our "Shipping Policy" section for further information.
RETURNS
• You can return new, unopened items within 30 days under our hassle-free return policy - no questions asked.
• For refurbished products please inquire at sales@awoco.com.
• Please look at our "Refund Policy" section for further information.
| | |
| --- | --- |
| Mounting Type | Under Cabinet or Wall-Mount. |
| Venting | 6" Round TOP Vent Exhaust. |
| Power Rating | 120V~60Hz. |
| Lighting | 2x 1.5W LED. |
| Noise Level | 49dB / 51dB / 57dB / 62dB. |
Model No.
Width
Depth
Height
# of
Baffle Filters
Vent Size
("Duct")
Max CFM
Wattage
Min
Max
RH-C06-30
29-1/2"
19-3/4"
6"
2
6" Round
900
110W
150W
RH-C06-36
35-3/4"
3
RH-C06-42
41-3/4"
3
Awoco RH-C06 Under Cabinet Classic 6" High Stainless Steel Range Hood, 4 Speeds, 6" Round Top, 900CFM w/ LED Lights