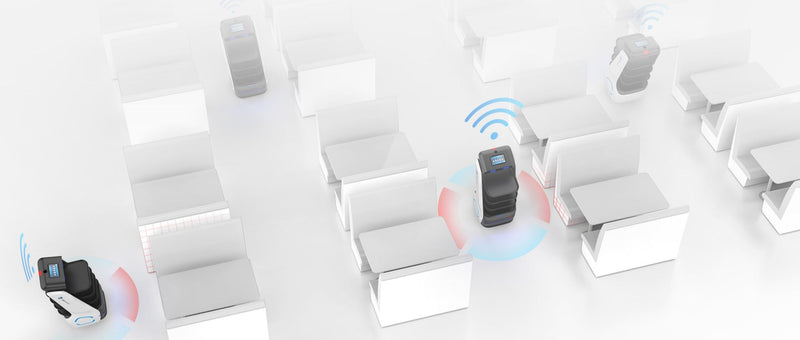 *Awoco is an Authorized Dealer for KEENON.
Features:
KEENON DINERBOT T5 uses the LIDAR mapping technology which assists the robot to navigate their surroundings through object perception, identification and collision avoidance.

During the LIDAR mapping process, the robot can be set to automatically recharge at fixed points to ensure continuous operation.

Food delivery robots can improve service efficiency, reduce labor costs and create service characteristics for the restaurant industry. In Addition to serving meals in restaurants, this robot is versatile; it can be used to serve tea and water in offices, send and receive express deliveries, deliver takeaway food, and provide goods distribution services for the restaurant industry.

Android operating system with touch screen control panel capability.

Easy to use with an ultra-flexible speed limit function that can adjust its speed according to the slope of the ground, making it better at adapting to the environment.

Multi-point deliveries allows the robot to deliver the meal to the guest's designated table up to 3 different tables in 1 order.

During an order the robot delivers the meal to the guest's designated table, after arriving at the table the robot will use an intelligent voice to communicate with the guest's that the meal has arrived. The guest will then remove their meal from their designated tray area and then confirm on the touch screen control panel that their order has been completed. This will then send the robot to the next table or return to the starting point. There is a set time that the guest's have to remove their meal from the designated area. Once the set time has passed and if the meal has not been removed, the robot will move on to the next table or return to the starting point.

4 Adjustable Trays - Single tray load 22 lbs.

Smart Expressions - More exciting man-machine communication.

Intelligent Voice - The flexible of communicating to guests.

Flexible Structure - Suitable for different heights of plates.
Product Specifications:
Product Size (W x D x H):  19.9" x 19.7" x 47.4".

Maximum Angle:  ≤ 5°.

Minimum Passage Width: 27.5" (Label Version), 31.5" (Laser Version).

Battery Life:  12-15 Hours.

Number of Layers:  4.

Layer Size:  Top Layer - 19.3" x 15.9" x 7.4", Other Layer - 19.2" x 15.9" x 6.9" 

Product Weight:  121 lbs.

Maximum Speed:  1.2m/s.

Charging Time:  5 Hours.

Battery Capacity:  DC 48V 12Ah.

Load Capacity:  88 lbs (22 lbs per layer).

Operating System:  Android.
 SLAM Positioning and Navigation Technology
High positioning accuracy and robustness.

Equipped with self-developed synchronous localization and map construction system and multi-sensor fusion algorithms, including the encoder, gyroscope (IMU), lidarodom, LIDAR, image module, UWB and WIFI, the serving robot can stably and efficiently in various application scenarios.
New Intelligent Obstacle Avoidance with Omnidirectional Obstacle Sensing

LIDAR, depth vision, stereo vision (RGBD), collision sensor, and infrared ranging depth vision endow the robot with a more flexible and effective movement obstacle avoidance capability. Besides, the Android control system increases the interaction diversity and scene adaptability of robots through touch sensors.
Multi-machine Intelligence

More efficient delivery.

Through intelligent coordination of the self-developed communication system, AI distribution scheduling can be realized, which ensures multi-robot cooperation and continuous optimization of the loading capacity, and thus improves the delivery efficiency of robot groups.
Smart Region Speed Limit

Withstand the test of complex environments.

With the ultra-flexible regional speed limit function, the robot waiter can adjust its speed according to the slope of the ground, making it better at adapting to the environment.
FULFILLMENT / DELIVERY
Dispatch: Within 48 Hours
Free shipping across all products
Domestic delivery time - 4-10 business days (Mainland USA ONLY)
Easy 30 days returns and exchanges
Please look at our "Shipping Policy" section for further information.
RETURNS
• You can return new, unopened items within 30 days under our hassle-free return policy - no questions asked.
• For refurbished products please inquire at sales@awoco.com.
• Please look at our "Refund Policy" section for further information.
KEENON DINERBOT T5 AI Technology Intelligent Restaurant Food Delivery Serving Robot